Most of these figures are on corbels, which often served as exempla or pedagogical encouragement towards Christian Behaviour. The theologian Jacques de Vitry at the end of the 12th century urged ecclesiastics to direct their talents towards the edification of the unlettered, the instruction of the ignorant and "superstitious" peasants, before whom real-life subjects and scenes should be presented more often, since common people are moved more by images than by sermons - as television has confirmed if it were ever doubted.
Some collegiate churches attached to important monasteries featured hundreds of figures illustrating and warning against all sorts of sin from gluttony and drunkenness, dancing and lewd behaviour to calumny, simony and sodomy - and most particularly wealth and the sins of luxury to which wealth inevitably leads.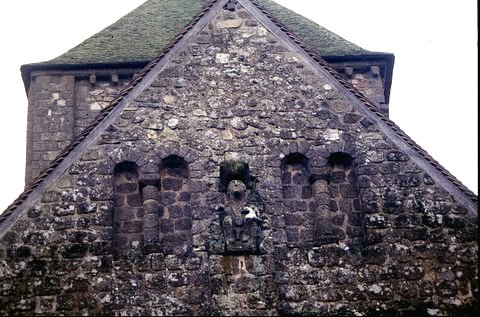 Male exhibitionist with moneybag, Domfront (Orne) France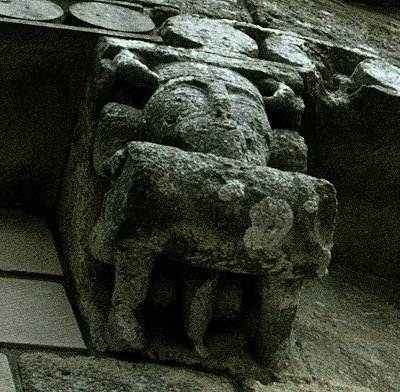 Male exhibitionist with barrel-like dolio, Givrezac (Charente-Maritime), France
Acrobats and musicians are frequent, for to Christian - as to some Muslim - clerics of the time, all secular music was (like the blues in twentieth-century United States) 'the devil's tunes', and the ubiquitous bagpipe was an obvious - if later - metaphor for male genitals, as, to a lesser extent was the flute. At Givrezac (above) a megaphallic male blows on a dolio, which might have sounded something like a jug played in an Alabama jazz-band of the 1920s.
At St. James', Louth (Lincolnshire) a male exhibitionist plays a fife and drum.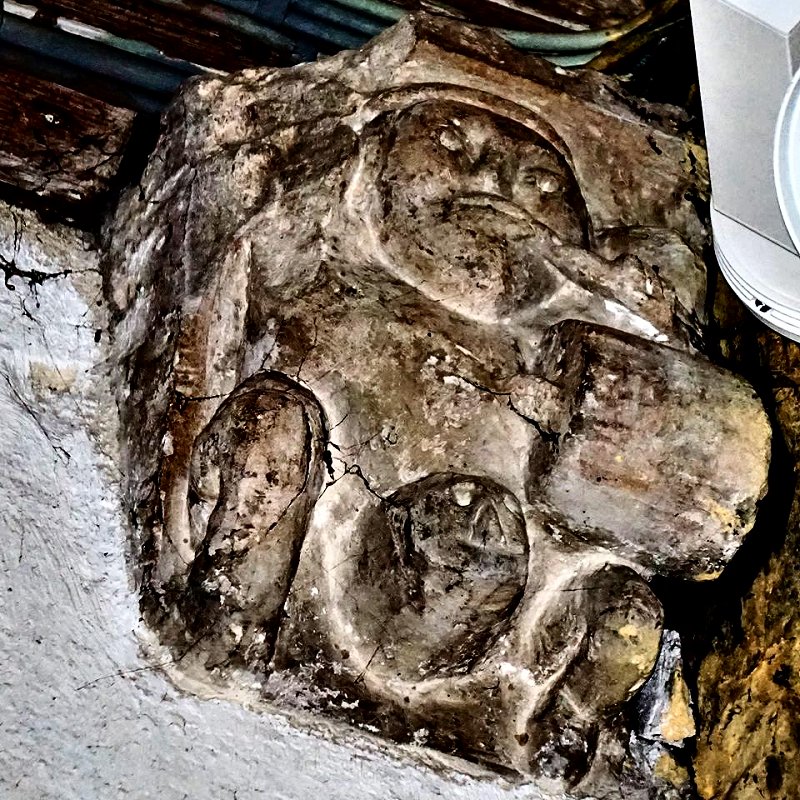 photo by Chris Marshall

Harp- and Rote-players are not uncommon.
Corullón (León), Spain

and rub shoulders with beasts such as pigs and dogs and bears who, even when not ithyphallic, represent lusts and degradation.
Plaisance-sur-Gartempe (Vienne)
Ithyphallic bear on the church tower at Aston Somerville (Gloucestershire)

Bear-cults were as important as Wolf-cults in Classical and pagan pre-Romanesque times. Just as the Roman Republic claimed its origin in the suckling of two abandoned twins by a she-wolf, so princes, leaders & heroes used to claim that their genealogy began with union of a bear with a female ancestor. Since, of course, the cult was seen as a threat to the church, it wanted bears to be domesticated, dominated and humiliated. This accounts for the hundreds of years of appalling cruelty to bears in Europe - as to wolves - which still has not ceased, (and in China amounts now to a pseudo-scientific holocaust, for magical reasons).
Window-voussoir, Annaghdown (Galway), Ireland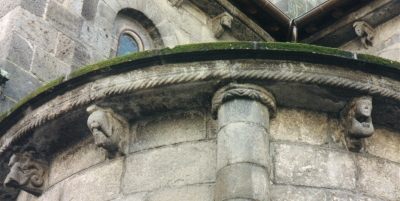 Mauriac (Cantal), France: absidiole corbels
and a detail of a sinful variant of the Ouroboros or Ourobolos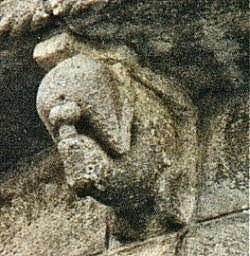 click for high-resolution enlargements by Tina Negus - and another example


Amongst the beasts symbolising lascivious concupiscence is the hare, in Classical times the animal associated with Venus. A rare and primitive depiction of hares with a male exhibitionist can be seen on a chancel-arch capital of an early Romanesque church in Auvergne.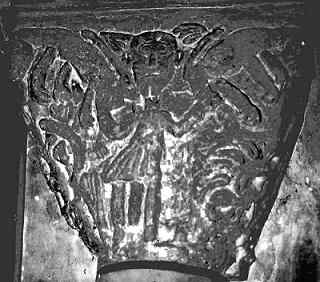 Saint-Etienne-de-Vicq (Allier)
click for an enlargement
On an English church a classic vulva-pulling female exhibitionist (of the type now commonly known as a Sheela-na-Gig) is approached with intent by an ithyphallic, bearded man-beast, somewhat resembling a Babylonian lion. The large limestone carving has been cut to form a window-top on a tower built mainly from flint. Above it is the church clock: Temporality combines powerfully with lechery (from French lècher, to lick) and concupiscence.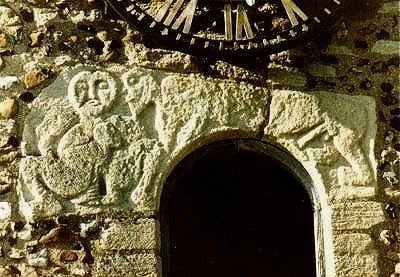 Whittlesford (Cambridgeshire), England
click for a high-resolution enlargement

Apes, coming from Barbary, represented the barbaric and blaspheming (if not demonic) Moors, and, to emphasise the point, displayed their circumcisions.
Droiturier (Allier), France

As well as fabulous beasts, beard-pullers, foliage-spewers, mouth-pullers, tongue-stickers and column-swallowers are also well-known from hundreds of churches. But comparatively rare are the exhibitionist versions of these motifs, such as the megaphallic dolio-player (Givrezac, above), mouth-puller...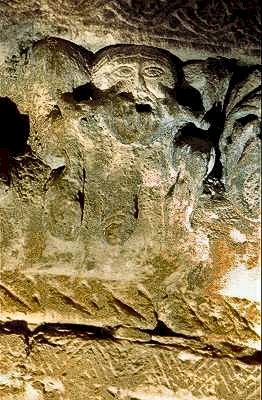 San Isidoro, León, Spain
click for more at San Isidoro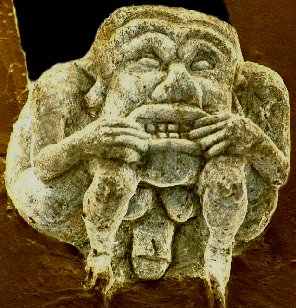 Thorpe Arnold (Leicestershire), England
click for high-resolution enlargement by Tina Negus

...or cake-eater.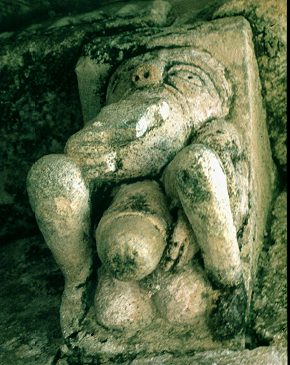 Champagnolles (Charente-Maritime), France
click for high-resolution enlargement
click for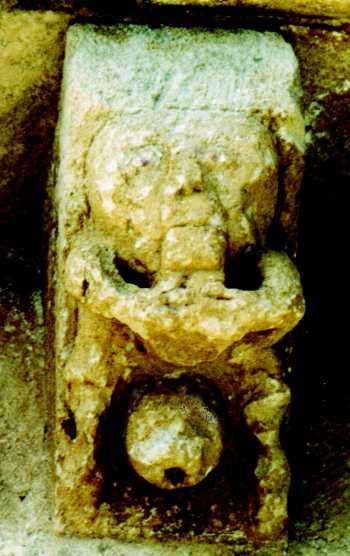 another view
Megaphallic glutton, Barahona (Segovia), Spain

Even some remote churches feature remarkable figures in frozen demonstration of mortal sins - especially the sins of carnality and consumption - to be avoided on pain of eternal punishment.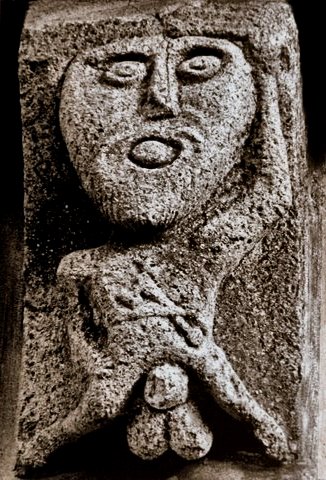 Atlas-exhibitionist, La Godivelle (Puy-de-Dome), France :
note the belt which is holding an object which might be
a key or a sculpting-tool.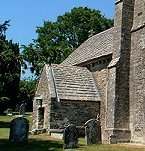 Studland (Dorset), England
click to see some corbels


This web-page is dedicated to the late Martha Weir,
who was amazed but unfazed by these carvings,
and without whom "Images of Lust"
would never have been researched or written.

LIST of PHOTOGRAPHS of MALE and FEMALE EXHIBITIONISTS
on this site