site web

français (1)
I am grateful to Julianna Lees &nbsp &nbsp(www.green-man-of-cercles.org),
Tina Negus &nbsp &nbsp(http://www.flickr.com/photos/84265607@N00/sets/72157600159376057/),
John Harding &nbsp &nbsp(www.sheelanagig.org),
Sean Breadin, photographer
Joël Jalladeau and Jacques Martin &nbsp &nbsp(http://jalladeauj.fr/obscenite/index.html),
for several important photos on these pages.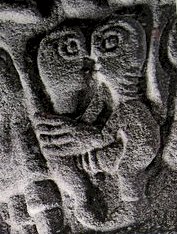 'Prudery is the worst form of Avarice'
Stendhal
'La pruderie est une espèce d'avarice, la pire de toutes'

This site emits no cookies.

"Absolutely wonderful !
Years ago I read Images of Lust and was delighted by this new world, strangely absent from many histories of eroticism, art and culture in general. This [website] is really illuminating and sets high standards for websites."
- Antonio Dominguez Leiva, Reader in comparative literature at the University of Burgundy, Dijon.
sheela-na-gigs
updated September 2021